The process of making a made to order garment involves many steps and procedures.
A bride asked us to make a less expensive replica of this dress.Here is an image of our designs we were making while it was in production.  The style #is C2015-mjls.  This image was used with one of our clients to show the progression of our custom design we were making that was inspired by a haute couture design.
And here is an image of the original the bride wanted us to use as inspiration for her custom dress.  And our design is to the right.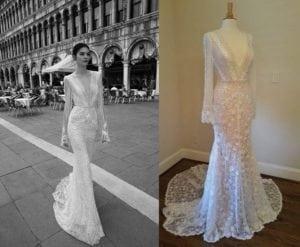 We can make any type of custom wedding dress for you and use any image you have as inspiration.  Just email us your ideas so we can get pricing together for you.
You can see more images of the finished product of style #C2015-mjls by clicking here.